Posts for tag: sports dentistry
By Sandusky and Lexington Dental Care
February 15, 2013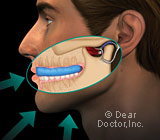 Nearly everyone who has ever played a sport, or had a child participate in one, has had that panic-filled moment when they witness an injury. And when you consider that there are more than 22,000 dental injuries each year in children younger than 18 years of age, you see there is fact to backup this concern. This is just one reason why we strongly encourage all of our patients who are involved in activities such as football, soccer, hockey, wrestling, lacrosse, skateboarding, field hockey and more to wear one of our custom-fitted professional mouthguards. It is especially true for basketball and baseball, which are responsible for the largest number of dental injuries.
The following are some key issues to help you understand the importance and advantages mouthguards offer.
Is there a way to determine who is at the highest risk for sports injuries?
Yes there are several. Age, gender, dental anatomy, and the type of sports being played are the four categories used to measure the risks for dental injuries. Young male teens still top the list of most likely to be injured; however, the gap is closing with more females getting involved in sports. Learn which sports or exercise activities made the American Dental Association's list of recommendations for using a custom mouthguard, when you continue reading "Athletic Mouthguards."
What's the difference between a "boil and bite" mouthguard and a professionally made mouthguard?
We are often asked this very important question. While some over-the-counter (OTC) mouthguards provide what is advertised as a "custom-fit" to your teeth, it is nowhere near the fit — and thus protection — you receive from our mouthguards that are crafted from precise molds of your teeth. Additionally, because all aspects of our mouthguards are tailored to each specific mouth, they provide much more protection and comfort. This important fact can enhance performance as the athlete can literally breathe easier while wearing one of our mouthguards.
What can I do if I witness a dental injury?
The first important fact to know is that you do not have to be a dental or healthcare professional to assist. However, before jumping in to help out, consult Dear Doctor's Field-Side Guide to Dental Injuries. This pocket-sized, quick-reference guide details what you should do at the scene of a dental injury based on the type of injury. But best of all, it is available to you free of charge from Dear Doctor.
Want to know more?
Contact us today to discuss your questions or to schedule an appointment.
By Sandusky and Lexington Dental Care
December 14, 2012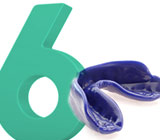 When involved in high impact sports or vigorous activities, it is important to protect your mouth and teeth. This statement is backed by the fact that there are over 600,000 sports-related dental injuries treated in emergency rooms across the US each year according to the US Centers for Disease Control (CDC).
In addition to absorbing and distributing the forces that impact the mouth, teeth, face and jaws an athlete receives while participating in sports such as baseball, football, basketball, hockey (ice and field), skateboarding and wrestling, the American Dental Association (ADA), also recommends the use of custom mouthguards for other activities such as acrobatics, bicycling, handball, racquetball, skiing, and even weightlifting.
These facts make two things clear: (1) it is vital that you obtain a professionally made mouthguard that you wear during these types of activities and (2) that you also understand how this mouthguard protects you. Below are just a few ways.
Lacerations. A custom-fit, professionally made mouthguard covers the sharp surfaces of the teeth to protect the soft tissues of the cheeks, lips, gums and tongue from lacerations that can occur from a blow or sudden jolt.
Mouth Impact. Just as a mouthguard protects against soft tissue lacerations, it can also help prevent injuries to the jaws and teeth. This includes but is not limited to chipped teeth, fractured teeth, broken teeth and teeth that are partially or fully knocked out of their natural position.
TMJ (jaw joint) Trauma. Wearing a properly fitted mouthguard can reduce the potential for jaw displacement and joint fractures by cushioning the jaws against damage from an impact.
Direct Jaw Impact. Anytime a person receives a direct impact to his/her jaw, having a mouthguard in place may help prevent more serious injuries to teeth and jaws. This is especially important for anyone diagnosed with TMJ.
Jaw Fracture. A custom-fit, professionally made mouthguard both absorbs and distributes impact forces so that jaws are protected. And it is this reduction in force that can help prevent the jaws from fractures.
Under Chin Impact. Receiving a blow under the chin can obviously damage teeth; however, it can also cause damage to the jaws as well as inflame or cause TMJ issues.
You can learn more about mouthguards by continuing to read the Dear Doctor magazine article "Athletic Mouthguards." Or you can contact us today to schedule an appointment.
By Sandusky and Lexington Dental Care
October 22, 2012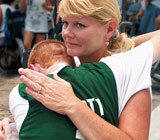 Witnessing or being involved in a sports-related dental injury can be a scary event not only for the player, but also for onlookers even if the injuries turn out to be minor. However, knowing what to do — and more importantly — how quickly to react can make a radical difference to the outcome. This is just one reason why we want to share the following easy-to-remember guidelines for what, how and when you need to respond to various types of dental injuries.
Immediate — within 5 minutes of the injury: If a permanent tooth is totally knocked out (avulsed), it requires immediate treatment by cleaning and re-implanting the tooth back into its original position to have any hope of saving the tooth long-term. Knocked out baby (primary) teeth are not reimplanted for fear of damage to underlying permanent teeth.
Urgent — within 6 hours of the injury: If a permanent or primary tooth is still in the mouth but has been moved from its original position, it is considered an acute injury and should be treated within 6 hours.
Less urgent — within 12 hours of the injury: If a permanent or primary tooth is broken or chipped but has not shifted from its original position, the injury is classified as less urgent. You still need to see a dentist for an exam; however, you generally can wait up to 12 hours before possible irreversible damage occurs.
Want To Learn More?
There are several ways you can learn more about sports-related dental injuries.