Posts for tag: dental emergencies
By Sandusky and Lexington Dental Care
March 07, 2013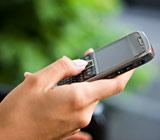 People always wonder when it is appropriate to contact their dentist. To answer this, we have put together the following list to provide some guidelines for you and your family. However, your calls are always welcome! Our goal is simply to give you some clear scenarios that illustrate when you should give us a call or come in to our office.
For Bite Related Problems
Early or late loss of baby teeth.
Difficulty in chewing or biting.
Mouth breathing.
Finger sucking or other oral habits.
Crowding, misplaced, crooked or even missing teeth.
Jaws that shift, jaw joints that "pop" or "click" or are uncomfortable.
Any change causing speech difficulty.
Cheek or tongue biting.
Protruding teeth — large overbite.
Teeth that meet in an abnormal way or don't meet at all.
Facial imbalance or asymmetry.
Grinding or clenching of teeth.
For Injuries And Immediate Care
Knocked out permanent tooth: Call us immediately. You need to take action within 5 minutes of the injury for best results.
Injuries to lips, cheeks, tongue or gums that appear to require stitches: Call us for instructions as soon as possible.
Tooth injury — if a tooth has shifted from its original position: Call us to tell us you are on your way to our office and see us within 6 hours of the injury.
Chipped or broken tooth that is still in its original position: See us within 12 hours of the injury.
A knocked out baby tooth: Call us as soon as possible.
Bleeding without any significant tears in tissue that could require stitches: Call us for instructions.
What To Do Now
If any of the above describe you or another member of your family, then contact us today to discuss your questions or to schedule a consultation. You can also learn more about treating dental injuries by reading the Dear Doctor article, "The Field-Side Guide To Dental Injuries."
By Sandusky and Lexington Dental Care
October 22, 2012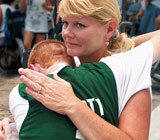 Witnessing or being involved in a sports-related dental injury can be a scary event not only for the player, but also for onlookers even if the injuries turn out to be minor. However, knowing what to do — and more importantly — how quickly to react can make a radical difference to the outcome. This is just one reason why we want to share the following easy-to-remember guidelines for what, how and when you need to respond to various types of dental injuries.
Immediate — within 5 minutes of the injury: If a permanent tooth is totally knocked out (avulsed), it requires immediate treatment by cleaning and re-implanting the tooth back into its original position to have any hope of saving the tooth long-term. Knocked out baby (primary) teeth are not reimplanted for fear of damage to underlying permanent teeth.
Urgent — within 6 hours of the injury: If a permanent or primary tooth is still in the mouth but has been moved from its original position, it is considered an acute injury and should be treated within 6 hours.
Less urgent — within 12 hours of the injury: If a permanent or primary tooth is broken or chipped but has not shifted from its original position, the injury is classified as less urgent. You still need to see a dentist for an exam; however, you generally can wait up to 12 hours before possible irreversible damage occurs.
Want To Learn More?
There are several ways you can learn more about sports-related dental injuries.