Posts for tag: bridge
By Sandusky and Lexington Dental Care
February 05, 2021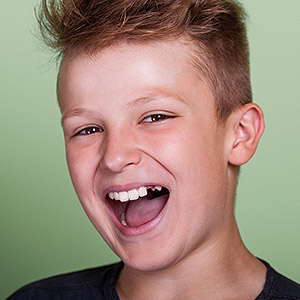 While anyone can lose a permanent tooth, the cause often varies by age group. Adults usually lose their teeth to disease, while those under twenty lose a tooth to accidents.
For adults, a dental implant is usually the best way to replace a missing tooth. Teenagers and younger, on the other hand, must wait to get implants until their jaws fully develop. An implant placed on an immature jaw will eventually look and feel out of place.
For most, their jaws won't reach full maturity until their early twenties. Even so, they still have a couple of good options for restoring their smiles in the meantime, albeit temporarily.
One is a removable partial denture or RPD, a device with the replacement prosthetic (false) tooth or teeth set in a gum-colored acrylic base. Of the various types of RPDs, most teenagers do well with a rigid but lightweight version called a "flipper," called so because it can be flipped in and out of place with the tongue.
These RPDs are affordable, their fit easily adjusted, and they make cleaning the rest of the teeth easier. But they can break while biting down hard and—because they're dentures—aren't always well accepted among teenagers.
The other option is a bonded bridge. Unlike a traditional bridge secured with crowns cemented to natural teeth, a bonded bridge uses a strip of dental material affixed to the back of the prosthetic tooth with the ends of the strip extending outward horizontally. With the prosthetic tooth inserted into the empty space, these extended ends are bonded to the backs of the natural teeth on either side.
Though not as secure as a traditional bridge, a bonded bridge is more aesthetic and comfortable than an RPG. On the other hand, patients who have a deep bite or a teeth-grinding habit, both of which can generate abnormally high biting forces, run a higher risk of damaging the bridge. A bridge can also make hygiene tasks difficult and time-consuming, requiring a high degree of self-discipline from the patient.
Whichever you choose, both options can effectively replace a teenager's missing tooth while waiting for dental implants. Although temporary, they can make the long wait time for a teenager more bearable.
If you would like more information on restorations for children and teens, please contact us or schedule an appointment for a consultation.
By Sandusky and Lexington Dental Care
January 22, 2020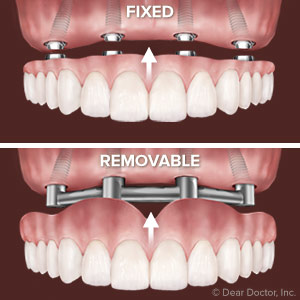 Although dental implants are best known as single tooth replacements, they can actually play a role in multiple or complete tooth loss (edentulism) restorations. While replacing multiple teeth with individual implants is quite expensive, there's another way to incorporate them in a restoration at much less cost — as supports for bridges.
In this case, only a few strategically placed implants are needed to support restorations of multiple crowns fused together into a single unit. Implant-based bridges consist of two main types: the first type is a fixed bridge, which is permanently attached to the implants and can't be removed by the patient. It's often the preferred treatment for patients who've lost most or all of their teeth but have not yet experienced significant bone loss in the jaw.
This choice, however, may not be the best option for patients with significant bone loss. In these cases, there's a second type of fixed bridge: an implant-supported fixed denture. This type of fixed denture provides support for the lost bone support of the lips and cheeks. If a fixed bridge is not possible due to finances or inadequate bone support to place 4 to 6 implants, a removable denture (also known as an overdenture) that's supported and held in place by implants is the next best alternative. Unlike a fixed bridge, an overdenture can be removed by the patient for cleaning purposes, and will require less investment than a fixed bridge.
For people with bone loss, the overdenture does more than restore chewing and speech function. Because bone loss can diminish support of the facial structures — actually shorten the distance between the chin and the tip of the nose — an overdenture provides additional bulk to support these structures to improve appearance. Depending on what the patient needs for facial support, overdentures for the upper jaw can be designed as "full palates," meaning the denture plastic completely covers the upper jaw palate, or open in which the plastic doesn't completely cover the palate.
Besides the condition of your teeth, gums and bone, your own personal preferences and financial ability will also play a role in which option is best for you. After considering all these factors, we can recommend which of these types of implant-based restorations will fit your needs. With either bridge, fixed or removable, you'll certainly benefit from the improvement to both your mouth function and your smile.
If you would like more information on implant-supported bridges, please contact us or schedule an appointment for a consultation. You can also learn more about this topic by reading the Dear Doctor magazine article "Fixed vs. Removable."
By Sandusky and Lexington Dental Care
March 26, 2015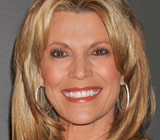 As the co-host of one of America's most beloved television game shows, Wheel of Fortune, Vanna White is recognized for her beautiful gowns and her dazzling smile. However, during an exclusive interview with Dear Doctor magazine, she shared her experiences with cosmetic dentistry. "I had a bridge put in probably 30 years ago where I had a tooth pulled and there was a space," Vanna said.
Prior to having a permanent tooth pulled, most people are concerned with what can be done to replace it. It's important to follow through and do exactly that. This is especially true with back teeth. Just because you can't see them, it doesn't mean you won't face problems if they are not replaced.
For example, did you know that missing posterior (back) teeth can lead to a wide array or problems with the remaining teeth, muscles, ligaments, joints and jaw bones? This includes:
A decrease in chewing efficiency that in turn can impact your diet, nutrition and overall health
Excessive erosion or wear of remaining teeth
Tipping, migration, rotation and even loss of adjacent remaining teeth
Painful jaw problems such as Temporomandibular Dysfunction (TMD)
One treatment option is to follow in Vanna's footsteps and consider a fixed bridge. This is an excellent option when dental implants won't work. And through our artistry, we can easily blend them in color and appearance with your surrounding teeth.
When implants are possible, they represent the best option. They are easily maintained and are a durable, long-lasting solution that can increase bite support.
To learn more about this topic, continue reading the Dear Doctor magazine article "Replacing Back Teeth." Or if you are already missing a permanent tooth, you can contact us today to schedule an appointment so that we can conduct a thorough examination. We will also address any questions you have as well as your treatment options. And if you want to read the entire feature article on Vanna White, continue reading "Vanna White."