By Sandusky and Lexington Dental Care
April 20, 2013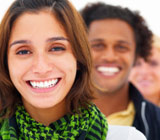 You have only one chance to make a first impression, and a big part of that impression is your smile. For many people, poor self-image starts with being self-conscious and inhibited about their smile.
A great smile is contagious. It can help you win friends and influence people. Conversely, inhibitions about your smile can have a negative impact on your relationships with family and friends, your career goals, and even your love life. If you think that self-consciousness about how your smile looks is holding you back, consider a smile makeover. With cosmetic and restorative dental procedures your smile can be the image of radiant health and happiness that you wish it could be.
A smile makeover is designed to enhance or even transform your self-image by giving you a brighter and more youthful smile, making your teeth look and function better through cosmetic and restorative dental procedures.
Here are ten reasons you may need a smile makeover:
You are self-conscious about spaces and gaps between your teeth.
Your teeth seem too small, and your smile seems "gummy."
Your teeth make you look older because they are stained or yellow.
Your teeth are crooked, chipped, crowded or worn out.
Your teeth do not work together effectively when you are biting or chewing.
You hide your smile when posing for a photo, and you habitually hold your hand in front of your mouth when speaking or laughing.
When you are interviewing for a new job or networking as part of your current job, your self-consciousness limits your ability to connect with people.
Your friendships and family relations are suffering because of your low self-esteem.
You wish you had a certain celebrity's smile or a friend's smile, instead of your own.
Perhaps most importantly:
Your inhibitions about your smile are affecting other people's perceptions of you in all areas of your life.
If any of the above sound like you, contact us today to schedule an appointment or to discuss your questions about cosmetic dentistry and a smile makeover. You can also learn more by reading the article "The Impact of a Smile Makeover: What does it really mean?" in Dear Doctor magazine.