By Sandusky and Lexington Dental Care
October 22, 2012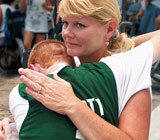 Witnessing or being involved in a sports-related dental injury can be a scary event not only for the player, but also for onlookers even if the injuries turn out to be minor. However, knowing what to do — and more importantly — how quickly to react can make a radical difference to the outcome. This is just one reason why we want to share the following easy-to-remember guidelines for what, how and when you need to respond to various types of dental injuries.
Immediate — within 5 minutes of the injury: If a permanent tooth is totally knocked out (avulsed), it requires immediate treatment by cleaning and re-implanting the tooth back into its original position to have any hope of saving the tooth long-term. Knocked out baby (primary) teeth are not reimplanted for fear of damage to underlying permanent teeth.
Urgent — within 6 hours of the injury: If a permanent or primary tooth is still in the mouth but has been moved from its original position, it is considered an acute injury and should be treated within 6 hours.
Less urgent — within 12 hours of the injury: If a permanent or primary tooth is broken or chipped but has not shifted from its original position, the injury is classified as less urgent. You still need to see a dentist for an exam; however, you generally can wait up to 12 hours before possible irreversible damage occurs.
Want To Learn More?
There are several ways you can learn more about sports-related dental injuries.