Posts for tag: dental injuries
By Sandusky and Lexington Dental Care
November 19, 2012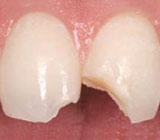 Your son just crashed his skateboard and cracked a tooth, or maybe your daughter fell off the monkey bars at school and now has a chipped front tooth. For children, and some adults, repairing chipped or damaged teeth with tooth-colored restorative materials directly bonded to the teeth may be the perfect solution to restore their smiles.
What is Involved: Composite bonding is a technique that has been developed to correct chipped teeth and other minor dental imperfections. It may also be used to correct mild crookedness or gaps between teeth. The procedure requires the application of a tooth-colored composite resin material to the surfaces of teeth, which is then sculpted to the desired shape. It can be performed in a single visit for one or multiple teeth. The procedure usually takes between one and two hours, and the end result is a beautiful, natural-looking smile.
Advantages for Kids and Adults: Composite resin bonding is a good choice for kids and teens since their jaws are still growing and developing, and they may still be engaged in high-risk activities. After your child's teeth and jaws are fully developed, we can discuss options for more permanent restorations such as porcelain veneers or crowns. These require removal of more tooth structure, which could compromise the long-term health of your child's teeth if done too soon. Composite resin restorations, which bond straight to the teeth and require little to no tooth preparation or drilling are therefore a good option for fixing chipped teeth, and they're less expensive than choosing veneers.
Disadvantages: The longevity of composite resin restorations is related to how well you maintain your teeth. Many people can go for ten or fifteen years before they need to have the bonded resins repaired or replaced. Others will tend to stain and wear after only one or two years and will need some touch-up work.
Contact us today to schedule an appointment to discuss any questions you may have regarding dental bonding. Read more about this topic in the Dear Doctor magazine article "Repairing Chipped Teeth."
By Sandusky and Lexington Dental Care
October 22, 2012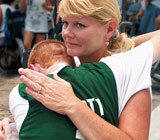 Witnessing or being involved in a sports-related dental injury can be a scary event not only for the player, but also for onlookers even if the injuries turn out to be minor. However, knowing what to do — and more importantly — how quickly to react can make a radical difference to the outcome. This is just one reason why we want to share the following easy-to-remember guidelines for what, how and when you need to respond to various types of dental injuries.
Immediate — within 5 minutes of the injury: If a permanent tooth is totally knocked out (avulsed), it requires immediate treatment by cleaning and re-implanting the tooth back into its original position to have any hope of saving the tooth long-term. Knocked out baby (primary) teeth are not reimplanted for fear of damage to underlying permanent teeth.
Urgent — within 6 hours of the injury: If a permanent or primary tooth is still in the mouth but has been moved from its original position, it is considered an acute injury and should be treated within 6 hours.
Less urgent — within 12 hours of the injury: If a permanent or primary tooth is broken or chipped but has not shifted from its original position, the injury is classified as less urgent. You still need to see a dentist for an exam; however, you generally can wait up to 12 hours before possible irreversible damage occurs.
Want To Learn More?
There are several ways you can learn more about sports-related dental injuries.