Posts for: July, 2014
By Sandusky and Lexington Dental Care
July 23, 2014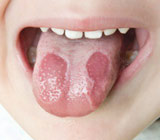 If you occasionally notice mildly irritating red patches on the top surface of your tongue, you may be one of the three percent or less of the population with a condition called benign migratory glossitis. It's also known as "geographic tongue" because the red patches often resemble land masses on a world map.
While the symptoms may be discomforting, geographic tongue isn't a cause for serious concern. The red patches are caused by the temporary loss of papillae, tiny bumps that grow on the surface of the tongue, which may appear and disappear repeatedly over a short time period (ranging from hours to days). As its medical name implies, this form of glossitis isn't cancerous or contagious; it's referred to as "migratory" because the red patches often appear to move around while changing size and shape. An outbreak can cause a mild burning or stinging sensation, and some people also encounter numbness in the patchy areas.
While there isn't a firm consensus as to geographic tongue's exact cause, there do appear to be triggers for it including stress, hormonal changes and mineral or vitamin deficiencies (particularly zinc and Vitamin B). There also seems to be a connection with psoriasis, a skin ailment characterized by redness and scaling — a number of people will experience both conditions. Geographic tongue appears more often in middle-aged, non-smoking adults, particularly women during hormonal fluctuations (as during pregnancy or ovulation). Individuals with deep grooves on their tongues called fissures are more susceptible as well.
There's no cure for the condition, but there are some treatments that can help alleviate any accompanying irritation. Depending on what we find during examination, we may prescribe anesthetic mouthrinses, antihistamines, steroid ointments or other treatments to help manage discomfort. It may also be helpful to limit your intake of foods during outbreaks that may increase irritation, including high acidic foods like tomatoes or citrus fruit, as well as eggplant, mint, spicy foods and alcohol (including certain mouthwashes).
If you experience these occasional patchy outbreaks on your tongue, please schedule a visit with us for a full examination. We may be able to reduce your discomfort and certainly put your mind at ease.
If you would like more information on geographic tongue, please contact us or schedule an appointment for a consultation. You can also learn more about this topic by reading the Dear Doctor magazine article "Geographic Tongue."
By Sandusky and Lexington Dental Care
July 15, 2014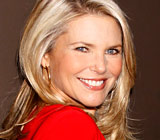 Christie Brinkley's world-famous smile has graced the covers of countless magazines for over 30 years. In fact, in her own words from an interview with Dear Doctor magazine, the supermodel said, "I think my smile was really my passport to success in the modeling industry." And while most of her smile's appeal comes naturally, Christie does give it a boost with good oral hygiene, regular dental checkups and tooth whitening. As Christie says, "When it comes to teeth, keep it as natural as possible. Do not go overboard on whitening. You want your teeth to compliment your face…your friends should not be required to wear sunglasses when you smile!"
Aside from some potential minor side effects such as tooth sensitivity, whitening teeth through bleaching is a relatively inexpensive way to brighten your smile conservatively and successfully. There are three common methods, as described below:
An external or vital approach where "vital" (living) teeth are bleached through direct contact to the tooth's surface.
An internal or non-vital approach where the tooth is whitened from the inside during a root canal treatment.
A combination approach in which both internal and external bleaching techniques are used.
But what causes teeth to become discolored?
Tooth discoloration can be caused by a traumatic blow to your teeth resulting in nerve tissue (pulp) death. However, there can be many other causes: consuming or using products that stain the teeth such as coffee, tea, cola, tobacco products and red wine, to name just a few. Aging is another factor, as it results in changes in the mineral structure of the tooth as the enamel, the outermost layer, loses its beautiful and youthful translucency. Other causes include exposure to high levels of fluoride; tetracycline, an antibiotic, administered during childhood; inherited developmental disorders and jaundice in childhood; and tooth decay.
The good news is that we routinely brighten smiles through tooth whitening. To learn more about brightening your smile, continue reading the Dear Doctor magazine article "Teeth Whitening." Or if you are ready to have your teeth professionally whitened, contact us today to schedule an appointment so that we can conduct a thorough examination and discuss your whitening treatment options. And if you want to read the entire feature article on Christie Brinkley, continue reading "The Secret Behind Christie Brinkley's Supermodel Smile."