Posts for: May, 2013
By Sandusky and Lexington Dental Care
May 30, 2013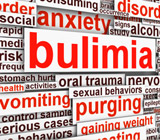 In recent years, the number of teenagers with eating disorders has increased dramatically. According to the National Association of Anorexia Nervosa and Associated Disorders (ANAD), as many as 24 million Americans suffer from some form of eating disorder and 95% of those who have eating disorders are between the ages of 12 and 25.
There are many long-term problems associated with eating disorders, including osteoporosis, infertility and anemia. Another unfortunate side-effect involves dental health. If your child suffers from bulimia nervosa, an eating disorder characterized by a cycle of food binges and vomiting, his or her teeth may show signs of tooth erosion.
Tooth erosion occurs when the tooth surface loses enamel after exposure to acid. It affects more than 90% of individuals with bulimia and 20% of individuals with anorexia nervosa, a disorder that involves starvation. There is often overlap between the two diseases — those with anorexia may sometimes binge and purge, and those with bulimia may try to restrict their food.
Each disorder results in dental diseases for different reasons. In bulimia, tooth erosion is caused by vomit, which is highly acidic and damaging. The frequency that a person engages in this activity will determine how much the teeth are affected. Usually, we will notice this erosion on the upper front teeth. In more severe cases, the salivary glands can become enlarged, causing puffiness on the side of the face. Anorexics, on the other hand, may have dental problems because they are often negligent about grooming and hygiene in general, including oral hygiene.
Every time your teenager visits our office, we will conduct a thorough examination, which includes looking out for the specific signs of eating disorders. If we do find that your teenager has severe tooth erosion, we'll be sure to discuss our findings with you. We may recommend a sodium fluoride mouth rinse to strengthen tooth enamel and reduce its loss. Most importantly, you should speak with your child and seek guidance from a professional to help deal with the issue.
If you would like more information about eating disorders and oral health, please contact us or schedule an appointment for a consultation. You can also learn more by reading the Dear Doctor magazine article "Bulimia, Anorexia and Oral Health."
By Sandusky and Lexington Dental Care
May 15, 2013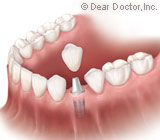 Perhaps you've heard about dental implant surgery — or maybe you've been told you are a candidate for the procedure. You may already know that today, implants are the "gold standard" of tooth replacement options. It's no wonder why: They have a documented success rate of over 95%, and can last a lifetime. But if you're put off by the thought of implant surgery, then it may be reassuring to learn the following five facts.
1. The entire implant process is planned before surgery is done.
This usually involves taking radiographs (X-rays), and sometimes CT scans, as precision guides to implant placement. Before the minor surgical procedure begins, we have already examined the bite and the bone structure, and determined exactly where the implant will fit in. There should be no surprises during the surgery — which is only one phase of the implant process.
2. Implant surgery uses the highest-quality materials and state-of-the-art techniques.
The implant itself is fabricated of commercially pure titanium, or a titanium alloy. This metal has a unique property — it's capable of osseo-integration, which means it can actually fuse with bone. During the implant procedure, the bone is handled with utmost care: it's gently prepared to receive the implant, and cooled with water to prevent tissue damage. If you don't have enough of your own bone tissue to support an implant, it has even become routine to restore bone with grafting techniques.
3. The surgical procedure itself is generally painless.
Almost all implants are placed using local anesthesia — typically, a numbing shot. If you're especially anxious about the procedure, it's possible to be given sedatives or anti-anxiety medications beforehand. Of course, we will make sure you don't feel any pain before we begin! Some mild vibration is generally all that you may experience during the procedure, but it's very rarely a cause for concern.
4. There is little discomfort following the procedure.
On the day of surgery and perhaps the day after, a non-steroidal anti-inflammatory medication (NSAID) of the aspirin or ibuprofen family is usually all that's needed to control minor discomfort. You may also be given a prescription for antibiotics and/or a mouth rinse to aid healing.
5. The result: Natural-looking teeth that can last a lifetime.
Implants have become dentistry's premier option for replacing missing teeth. Their placement involves minimally-invasive techniques, and has a success rate higher than any other tooth replacement system. And, given proper care, they can last for the rest of your life. Could you ask for more?
If you have questions about dental implant surgery, please contact us or schedule an appointment for a consultation. You can learn more in the Dear Doctor magazine articles "Dental Implant Surgery" and "Dental Implants."